Product Description
Lightweight, ergonomic AR-15 Hand Guard Kit that eliminates the middle step
Made from American 6061 T-6 Extruded Aluminum
KeyMod Universal Attachment System or M-Lok Attachment System
Free Float Design
Relieved for Most Gas Piston Systems
All Rails 1913 Picatinny Mil-Spec
Precision Laser Engraving
Forms Continuous Rail

XLS KeyMod Lengths: 7" - 18" Allows for the direct attachment of any KeyMod-compatible accessories. M-Lok available in 7.25", 12", 14.5" or 15" MagPul's M-Lok system uses slots in place of the keyholes. The attachment lugs on M-LOK accessories are t-shaped and bi-directional so they can be placed at the front or rear of the slots.Standard in Hard Black Anodize. Also available Cerakote colors~ Call for Custom Size. Toll Free: 702-331-7772Hand rails are ergonomically engineered for maximum comfort and powerful performance
Specially created and milled by SMF Tactical for lighter weight and versatility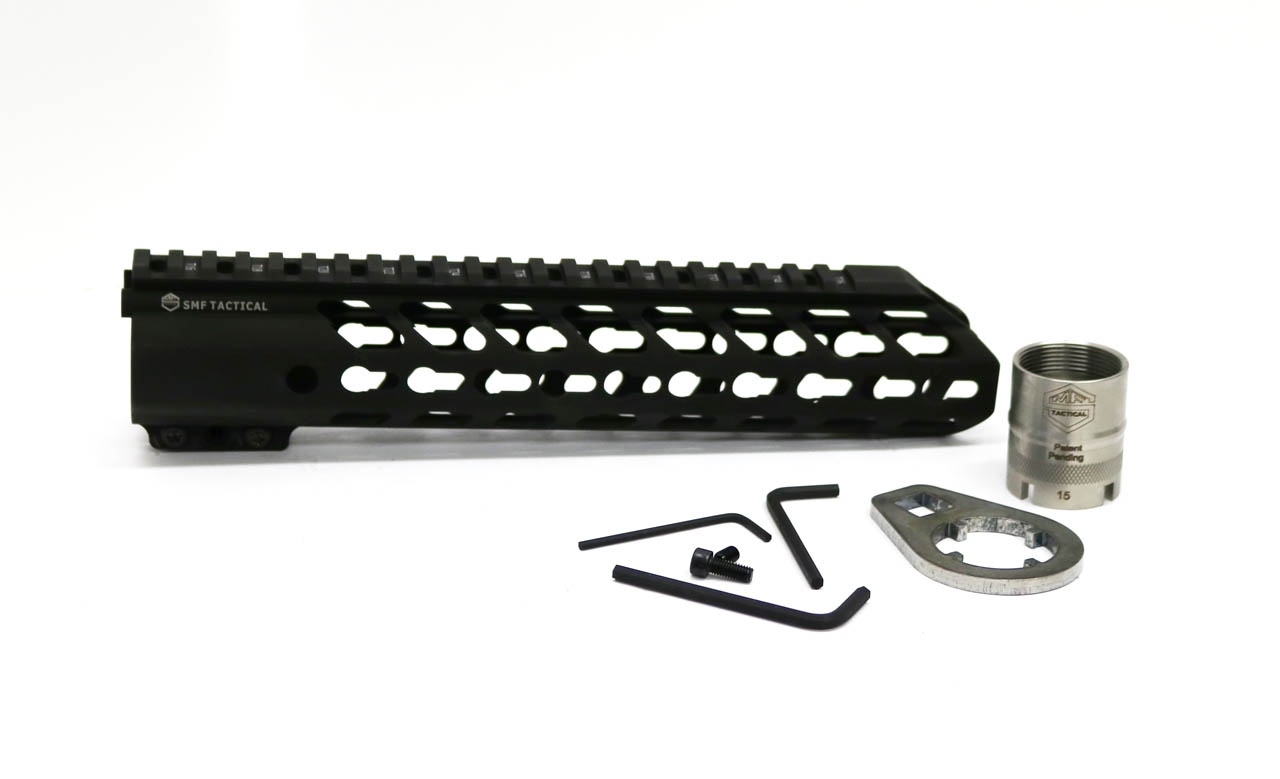 Proudly made in the U.S.A.
Custom Field
Product Reviews
built very well would, sets great on a 10" barrel with a LEO takedown. Ordered a raw handguard to Cerakote. You will need to mill legs if using on a billeted upper receiver. Priced well for the size, longer ones including the .308 are overpriced had to order from someone else.

Fitz and looks great great products great prices great people to do business with Awesome product looks and fits great great products great prices

18" AR-15 FREE FLOAT HANDGUARD KIT - KEYMOD AND M-LOK

Item does not seat well with my Juggernaut Tactical receiver, not sure whom is to blame for the mismatch, SMF, Juggernaut, or the both of them, nonetheless I am notating my purchase experience to this review to make future consumers aware of what to expect if they purchase a SMF guard & Juggernaut Tactical receiver as I did. There is a gap around 1/16 of an inch towards the top of the receiver and guard once mounted, gap is caused do to the lower part of the guard which meets up to the receiver not having sufficient clearance which causes the upper section of the guard to have the gap. I know I can just shave off a little bit off the lower section of the guard but as a consumer, one shouldn't have to make modifications to new parts that aren't meant to be modified. SMF Reply: Our AR15 handguards are made for Mil-Spec upper receivers . Juggernaut is a billet receiver and the lock tab on our handguard may interfere with receivers that are not mil spec. Look at the two anti-rotation tabs machined into the handguard you will see that at the top the tabs it curves in toward the centerline of the handguard and this .030 is most likely what is interfering with the billet upper. If you were to file off this .030 or whatever the interference is then you will get both the anit-rotation and linear non movement that the handguard provides. Then it will sit flat and parallel to the upper.

Your customer service was awesome!!!

Very nice design and quality!

Bought this with a matched upper/lower and had them coated. All of the parts are of excellent quality and the 3 individual items have no variation in the coating color. Super Job!